Peter Barthold Schnibbe - Biografy by Dagmar Voss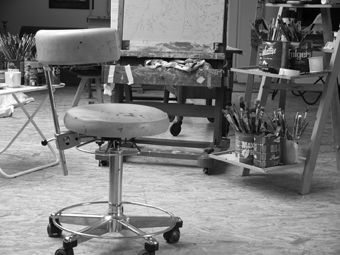 Water and art were laid in Peter Barthold Schnibbe's cradle in July 1951.
Water surrounded his first years in Bremerhaven on the Weser mouth as an important element in his life. He grew up in a signaltower on the bank of the Weser. His father was a sea-faring captain, whose civil courage and charity manifested in times of war and afterwards; as the last German commander of the today's, 3 mast bark "Eagle", which has been flying under US -American flag since 1945.
Thus loneliness from his earliest youth surrounded the artist – an impress which expresses the melancholy longing in many of his works. And also contains his preference for nature, above all, the water - for him a dimension of spiritual experience, of immersing into restful deeper expansions for the soul. In his garden he also realizes his creative ambitions in harmony with natural manifestations.
Art was given to him as an heir, his motherly roots found themselves in a long row of forefathers whom were painters. Best known among them is Hermann Schnee who worked as a professor in Potsdam and sold his romantic-impressionistic pictures also to Emperor Wilhelm II. Schnee was a student of Oswald Achenbach and Hans Fredrik Gude. At the big Berlin art exhibition, a yearly occurring art salon, he presented six paintings in 1895. Today his pictures are exhibited, among others, in the urban art collections of Chemnitz and in the hunting château Grunewald.
The peaceful, spiritual character, a basic trait of Peter Barthold Schnibbe, is surely founded in the long line of forefathers who entered history as the Mennonites. An ancestor of the motherly line was Menno Simons (1496 - 1561), the co-founder and eponym of this religious orientation. Schnibbe feels – like these deeply religious people – respect and humility for the creation and her creatures. For him worldly wisdom and serenity are important qualities and aims.
.The fatherly line gave him a further important part to take with him: Seriousness, charity and spiritu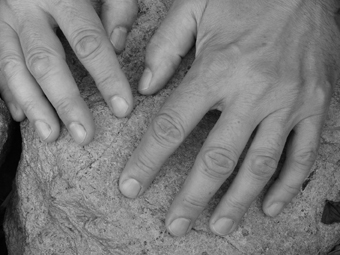 ality. Also in this line artists appear painters and poets. Thus Hermann Allmers worked together with the "Worpsweder" artists at the end of the 19th century, his uncle Wilhelm Schnibbe met Hans Arp and others in the 1950s in a Düsseldorf art salon and wrote poems.

Even as a child, Peter Barthold Schnibbe already painted seriously, meaning, that for him it was - and is still today - not a question of pastimes. No doubt his American godfathers belong to the people who have strongly influenced him during childhood days. The internal attachment to North America (Bremerhaven as a "suburb" of New York with long emigrant's tradition) has moved him to many trips there. Motives from the areas of the North American continent are to be found in his paintings over and over again. His mainly large-size acrylic paintings catch not only the eye, but, capture ones whole attention right into the events, and lets arise ones own pictures in their head, they open ones own inner world of pictures.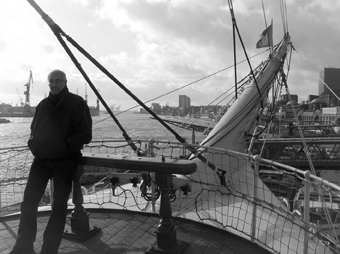 His North German and maritime motives, his subjects around New Orleans and the big flood get under the skin, like the triptych in which Afro-American people play music on one hand and comfort each other on the other hand. Photos, film sequences and nature are the foundation of his pictures; he adds personal, emotional attributes and oscillations which lend a special radiation to the painting. Respect for creation and mankind are reflected in his works. He studied art, theology, philosophy and German philology in Landau and Bremen. During the study he only drew in black-and-white, but however the naturalistic representation of what a picture has to tell did not let him go, before and also afterwards. From 1978 color came to his works again, very soon the love for the realism determined his creating. So it was quite natural that he first pursued his way as a teacher for arts, before he then devoted himself strictly and completely to painting. Peter Barthold Schnibbe sees himself in the tradition of the romantics like Caspar David Friedrich, the Pre-Raphaelites and above all the Northern-Scandinavian painters like Anna Ancher and Edvard Munch. The time of the industrial revolution moved many artists to a reaction, back to more esteem and respect for mankind and nature. Peter Barthold Schnibbe recognizes resemblances to the today's digital revolution which also causes the estrangement and disentanglement from family connections, from warmth and emotion. He reflects this and counteracts against it in his pictures, gives attention and love to the creation. The melancholy of his pictures reminds one of North German Worpsweder, there are also parallels to North American artists like Andrew Wyeth, Edward Hopper and Georgia O'Keeffe, the latter, one of the greatest American painters of the 20th century. With her he admires above all her straight position towards art to which everything in her life had to be submitted. The artist has also dedicated special attention to Picasso whose talent he values. He sees a human ideal in Jesus, – not the ecclesiastical saints, but the man – whose humanitarianism, love and courage for him are a perfect example of a preserving life form. Not only painting has accompanied him during his lifetime, music is also an important part in his creating phases. He plays several instruments and has always been an active musician. At last the sound world grants him the necessary support in his creativity. During his work which he calls a place between subjective feeling and objective reality he surrounds himself with Celtic, Blues and Folk sounds and aromatic scents, in each case according to the subject. Thus he condenses the atmosphere which he renders in his pictures in the creative process. Today he lives and works in Weyhe-Melchiorshausen near Bremen/Germany.


Selection of Exhibitions:

1989 Galerie Quba, Berlin
1989 Gruppenausstellung des Neustadter Kunstvereins, Neustadt/Wstr
1990 Galerie – Werkstatt, Syke
1990 Wassermühle Sudweyhe
1992 BHW – Galerie, Bremen
1992 Niedersächsisches Kultusministerium Hannover
1992 Maritim Hotel, Bremen
1994 Art-loft-Gallery Collinsville, St.Louis, USA
1994 Künstlerhaus Griessee, Chiemgau
1995 Niedersächsisches Kultusministerium Hannover
1997 Kraft Jacobs Suchard / Kraftfood, Bremen
1998 "Die Insel", Worpswede
1999 Bremer Presseclub
1999 Emsland – Museum, Forum Form Clemenswerth
2000 Anasazi Santos Gallery, Edmonton/Kanada
2001 Museum für das Fürstentum Lüneburg
2001 De Tamboer, Hoogeveen, Holland
2001 Kannenberg, Berlin
2002 Humboldt-Schlüter-Siftung, Bremen
2002 Wassermühle Sudweyhe
2002 World Trade Center Bremen
2002 Kunstturm Rotenburg
2003 Kunstverein Krakow am See
2003 Galerie Hübner, Warnemünde
2003 Kunstverein Bad Zwischenahn
2004 Bremer Technologiehaus
2004 Kunst im Raum Seidemann, Bremen
2004 Ortec Logiplan, Wildeshausen


2006 - 2011, Malaufenthalte auf dem Darss


2006 Galerie Klostermühle Heiligenberg
2006 Hofgalerie Kaemena, Bremen
2006/08 Nalaufenthalt auf Darss
2006 Galerie"Alter Krug" Wieck, Darss
2007 Galerie Eigenart, Sandesneben
2008 Künstlerhaus Spiekeroog, Gruppenausstellung der DGzRS mit Otto Quirin, Kurt Schulzke und Lutz E. Felsmann
2009 Teilnahme an der Park Art, Emslandmuseum Schloss Clemenswerth
2010 Teilnahme an der "Impulse International", Osnabrück
2010 Teilnahme an der "Kunstschiene", Bruchhausen-Vilsen/Asendorf 2010, Boesner-Galerie, Bremen
2010, Wassermühle/KSK, Barrien
2010, Gruppenausstellung, Baden Baden
2011, Strasse der Kunst im Landkreis Diepholz
2012, Kunsthaus am Schifferberg, Ahrenshoop